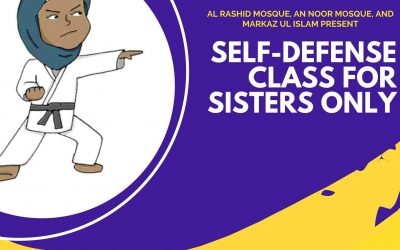 In cooperation with other Masajid around Edmonton, Masjid Annoor presents Self-Defense for Sisters. We would like to invite all our sisters to partake in this self-defense class.
read more
Quran (Various Languages)
Access the complete Quran online.
Quranic Audio
Discover the beauty of the from across the globe.
Hadith Collections
Access the various books of Hadith Online.
Aquidah Sessions
After Isha
Friday at AIC
Saturday at Masjid Annoor
Attention !!!
Due to the surge of Covid-19 in the Edmonton area Masjid Annoor and Annoor Islamic Centre will be restricting our capacity to 15% of the fire code occupancy in compliance with provincial regulations.
Please maintain 2 meter distancing.
Friday Prayer Times:

Masjid Annoor (Occupancy 27)
3032 - 106 St.
Prayer Times: 12:48
Annoor Islamic Centre (Occupancy 61)
332 Saddleback Road
Prayer Times: 12:48, 1:50
PRAYER RUGS AND MASKS REQUIRED!
NO CHILDREN 8 & UNDER ALLOWED!
PLEASE MAKE WUDU AT HOME!
Complimentary Bread
    Please stop by Annoor Islamic Centre (Blue Quill Mall) and take some packaged fresh baked bread.
The bread, brought in from the Windermere COBS Bread Bakery, will be available throughout the week starting every Monday after Isha prayers.
Brought to you by SMCC community.